I want to Hasshin to the World
about
The True Things of JAPAN
It's You are Welcome!
Daijoobu desu!
Last Update★29/12/2661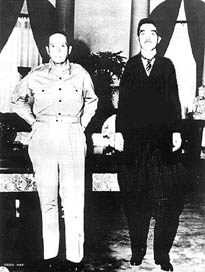 Sate, to-iuyouna wakede ...

I know that you want to know about The True Things of Japan.
Now, the first important things what you have to know ...

JAPAN is not Democratic Country.
JAPAN is not Liberty Country.

Because ...
JAPAN is just only for Mr.TENNOU.

Mr.TENNOU is not King and not Emperor.
He is just only "MAN" he said.

But ...
He is still, even now, the "GOD".

TENNOU "God" Family has 2661 years history.
Now, TENNOU Family is only 29 peoples.

and ...
All Japanese Peoples are working 24 hours everyday
for just only TENNOU Family.
Yes, all Japanese Peoples are Mr.TENNOUs Slave.

And, Japanese Army
- They said "We are existencing for only Self-Defense" -
is existencing for only TENNOU Familys-Defense.

Japanese Army is very small and weak.
But, it's enough for only 29 peoples.


It's true things.
Did You Know?

to be continued ...






*Mail to Takasugi Dan & iMi/imperialMEDIAMANinternational
imi@nk.rim.or.jp
and
Please add 《JWEbB》's URL on your Web's Link List
It's
http://www.nk.rim.or.jp/~imi/jwebb.html


---

Now, You can jump to our Mondo Pages
Click*
J=Japanese E=English

*Up Date On MEDIAMAN -J-
*Takasugi Dan's "Photo by Walkin'" -J-
*Takasugi Dan's Hong Kong Guide -J-
*Takasugi Dan's Koh Samui Life -J-
*Takasugi Dan's Treasure Box -J-
*Wabi Sabi Stereo Photo House -E&J-
*CLUB IRREGULARS -J-
*About of Takasugi Dan -E&J-
*Readers Page -J-
*Merchandises -J-


---



And Now, You can jump to
======================================
More OUTERNET Sites
*Jump to our WWW Links Page
======================================

OK! You are Very Goood!
Now, Drop your Money to Me!!

Sumitomo Mitsui Bank・Meguro Branch・Tokyo Japan
General Account・0711926・Takasugi Dan
Thank You!

And, You can back to 《JWEbB》Main Page
It's Takasugi Dan's Mondo World!!
*Main Page







Presented by
Takasugi Dan & iMi/imperialMEDIAMANinternational
Tokyo/Japan , Koh Samui/Thailand